G-Alpine Brightening Serum
G-ALPINE BRIGHTENING SERUM
Serum bertekstur lembut dan ringan pada wajah, yang berfungsi untuk mencerahkan kulit, membantu pertahanan kulit wajah agar menjadi lebih sehat (Skin Barrier Protection) yang dapat mengurangi Trans Epidermal Water Loss (TEWL) sebagai penyebab utama kulit dehidrasi dan rentan terhadap gangguan pada kulit wajah. Serum yang diperlukan bagi anda yang menginginkan kulit wajah yang cerah secara alami.
30 ML
Kandungan Utama
Niacinamide (4%)
Mencerahkan kulit, mengurangi produksi minyak berlebih dan mendorong pertumbuhan Ceramide sebagai factor utama pertahanan kulit dan menjadikan kulit menjadi lebih lembab secara alami.
Ceramide (0,2%)
Komponen utama pembentuk lapisan kulit yang sehat untuk membuat kulit menjadi lebih sehat dan memperkuat fungsi Skin Barrier pada kulit. Melindungi kulit dari dehidrasi, serangan radikal bebas, dan permasalahan gangguan-gangguan yang dapat terjadi pada kulit (anti-breakout). Ceramide juga membantu pembentukan proses kelembapan alami dari dalam kulit.
Menenangkan dan memberikan hidrasi pada kulit, sebagai Anti-Oksidan yang juga mampu mencerahkan kulit dari noda hitam, flek hitam dan permasalahan lainnya akibat dari hiperpigmentasi.
Turmeric Root Oil
Mencerahkan wajah dan berfungsi sebagai Anti-Inflamasi pada wajah
Produk ini cocok untuk kulit wajah: Kering, Normal, dan Kombinasi
G-Alpine Brightening Serum

Brightening and Firming
Normal to Dry Skin
A powerful brightening serum contains Gigawhite Extract, miraculous key ingredient that comes from the blend of 7 plantations from Alpine Mountain, which very potent to brighten the skin and promoting collagen to keep skin firm and supple. Ceramide to limit water loss and protects skin against visible damage from environmental stressors. Niacinamide to restore the surface of skin and boost it to a lighter tone with extra hydration. HA, Vit E, Aloe Vera, Licorice, Tumeric and Sprout Extract as a dynamic combination to eliminate dark spots and uneven skin tone, also moisturize skin at the same time. Brightens and replenish skin in every drop.
Direction of Use
Actual Size:
Press 1-2 pump onto the palm and apply gently to the face and neck until it's fully absorbed.
Note: This serum can be used for day and night to prep for the rest of the skincare routine.
Travel Size:
Pour 5 drops or as onto the palm and apply gently to the face and neck until it's fully absorbed.
Note: This serum can be use for day and night to prep for the rest of the skincare routine.
Caution
For external use only. Avoid contact with eyes. If contact occurs, rinse well with water.
Water, Niacinamide, Polysorbate 20, Aloe Barbadensis Leaf Juice, Glycerin, Panthenol, Phenoxyethanol, Brassica Oleracea Italica (Broccoli) Sprout Extract, Brassica Campestris (Rapseed) Sprout Extract, Brassica Oleracea Gemmifera (Brussels Sprout) Extract, Helianthus Annuus (Sunflower) Sprout Extract, Sorbitan Caprylate, Xanthan Gum, Butylene Glycol, Chlorphenesin, Hyaluronic Acid, Alcohol, Ceramide, Propanediol, Fragrance, Glycyrrhiza Glabra (Licorice) Root Extract, Benzoic Acid, Tocopheryl Acetate, Malva Sylvestris (Mallow) Extract, Mentha Piperita (Peppermint) Leaf Extract, Primula Veris (Cowslip) Extract, Alchemilla Vulgaris (Lady's Mantle) Extract, Veronica Officinalis (Speedwell) Extract, Melissa Officinalis (Lemon Balm) Leaf Extract, Achillea Millefolium
Product review on female daily.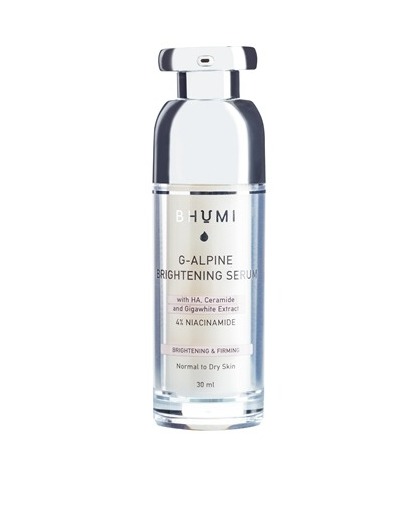 Product review on female daily.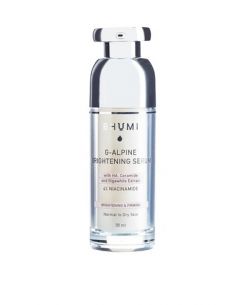 BHUMI
BHUMI G- ALPINE BRIGHTENING SERUM
BRIGHTENING SERIES
Rp. 269.000
We found other products you might like!