Multi Targeted All Natural Adoring Face Oil
Ingredients
Clary Sage Oil, Frankincense Oil, Geranium Oil, Lavender Oil, Lemongrass Oil, Patchouli, Rose Hip Oil, Tea Tree Oil, Turmeric Root Oil, Vitamin E
A blend of 9 Pure Essential Oils to regenerate and perfecting your skin
A perfect 9. A great recipe to a translucent look. Starts with Turmeric, a brilliant brightening agent. Lavender, the queen of essential oil that comes with numerous benefits. It can helps to moisturize and revitalize to achieve a more youthful and radiant look. Rosehip and Clary Sage are a rich natural source of essential fatty acid and collagen to regenerate skin cells. Tea Tree and Patchouli is good for preventing acne and blemished condition, also an amazing moisturizer for super dry face. Frankincense Oil is effective for toning and diminishing dark spot. Geranium is a great formula for sensitive and dehydrated skin. Lemongrass Oil is a perfect formula for oily face type. A perfect way to rejuvenate your beauty.
Direction:
Pour 5 drops to your palm and rub it to both hands. Enjoy the aromatic scent and gently massage it to your face and neck in circular motion.
Clary Sage Oil, Frankincense Oil, Geranium Oil, Lavender Oil, Lemongrass Oil, Patchouli, Rose Hip Oil, Tea Tree Oil, Turmeric Root Oil, Vitamin E
Product review on female daily.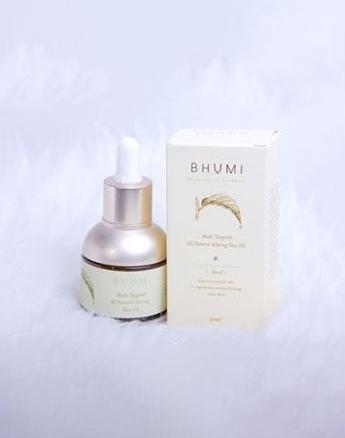 Product review on female daily.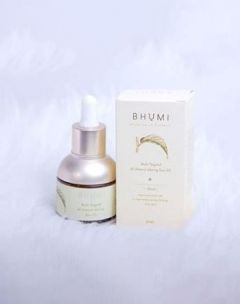 BHUMI
Multi Targeted All Natural Adoring Face Oil
Rp. 229.000
We found other products you might like!